Hi!(^__^)
We are looking for a person who is willing to be an assistant of an apartments management company that will establish a local subsidiary in Manila. (See the recruitment article from here)
Introduction of Company
The company handles real estate in Japan mainly in (condominium) management business. With the apartments management experience cultivated over many years, they continue to propose safe, secure, and comfortable living services to customers.
Currently, the number of managed properties is more than 3,000 condominiums and rental condominiums, close to 130,000 units, and around 7,000 parking lots. It is a large company in the Japanese condominium management industry that is ranked 15th in Japan in the number of managed properties ranking.
The company has 2,600 employees working with confidence, high customer satisfaction and employee satisfaction.

What is Apartments Maintenance?
In Law on promotion of optimization of condominium management, Apartments maintenance is defined as "consigned by the condominium management association and doing business as an act of performing administrative work including all core work".
Today we are introducing a company which manages apartments to enhance values and provide safe & comfortable livings for customers.
Additionally, they carry out all management tasks such as manager work, cleaning work and building/equipment management work that are essential to providing a comfortable and comfortable apartment life.

Introducing our CEO
In this section, we would like to introduce the CEO, his important values and his thought on the applicant.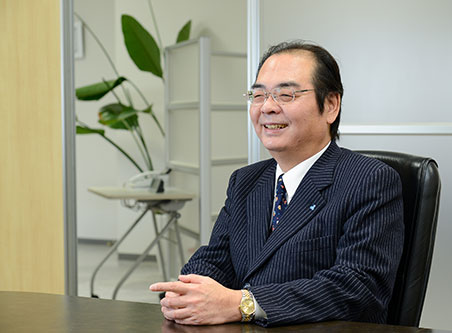 We try to make our customers happy through our maintenance
Many people ask me "what exactly is apartments maintenance?" In fact, it's not something I can describe in one word, it's much more than that.  What we try to achieve is not just simple maintenance, but "making our customers feel happiness throughout generations".
A job that connects people
To think about what to do wishing people's happiness… we believe that this is a job that could never be replaced with machines. Because we live in an era that we evolve with machineries, our job that connects people can be quite meaningful. Our basic policy towards the job is "it's up to you". Therefore there are no answers. And that's the exciting part about this job. It is out belief that our job cannot be completed by only thinking about efficiency, but also caring about "people's happiness who are in front of us". As for myself, I can't ignore people with troubles. I have so many experiences before helping people with extra care. What's important about this job is wether you can care about a person in front of you. That's all that matters.
People are the most valuable asset
For us, "people" are the most valuable asset and the biggest strength. We believe that our job is a perfect match for those who like to work for and take care of others.
Background of Recruiting in the Philippines
There is a more precious reason for us to expand our business to Asia. And that is our desire to spread the importance of apartments management.
With our rich experiences which we have gained through a long time, we would like to deliver safer and happier environments for every person who lives in an apartment/condominium in Asia, and hopefully create a lot of innovations for them.
We would like to deliver the Japanese quality of apartment management to the world. We have already expanded our business to Taiwan and Vietnam. This time, we would like to help the people in the Philippines who live in apartments with our knowledge of apartments management.

What kind of operation for this position?
In the first two months, you will be attending trainings for apartments maintenance in Manila. (Those trainings might take a place in Japan.) Even if you don't have any "know-how's", you will eventually gain the knowledge with fundamental trainings and fulfilling support.
The main work contents as a assistant of Japanese expat are translating in the meetings, helping for contracts for establishing a local subsidiary, supporting for procedures and driving a car (possession of a driver license is a plus)
You can develop your business manners and knowledge time to time, and there is a chance for you to become a manager in the future. It's totally up to you!

Apartments maintenance training